Center Events
Discover Kaka'ako
Saturday, August 10th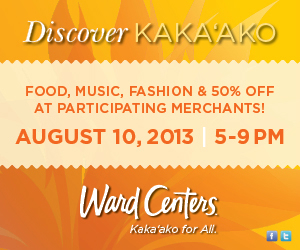 This month, Ward Centers aims to showcase Hawai'i's flourishing connection between film and fashion in a collaborative partnership with the Hawaii International Film Festival (HIFF), the Department of Business, Economic Development and Tourism (DBEDT) and Hifi COOP. Experience the best in film and fashion, information on the upcoming Hawaii Fashion Month program, "Half-y Hour" discounts, food, and live entertainment.
Presented by the Hawaii International Film Festival (HIFF), (DBEDT) and Hifi COOP, a few of this month's Discover Kaka'ako events currently include:
Kick the night off with POCKET at the main stage 5:00 p.m. These veteran local musicians specialize in Disco, Funk & R&B cover tunes from the 70s, 80s and 90s.
At 6:30 p.m., revel in the setting sun while the feature film, Blue Hawaii plays overhead.
At 8:15 p.m. turn your attention to the main stage for a fashion show brought to you by the Hifi COOP. Designers will be taking you from the beach to the boardroom with the latest trends and fashions.
Enjoy 50 percent off at these participating Half-y Hour stores plus sample signature cocktails along the way: As Seen on TV, Crazy Shirts Outlet, Downtown Gifthings, Eden in Love, Island Olive Oil, Island Soap & Candle Works, Native Books/Na Mea, Rainbowtique, Sedona, THEFACESHOP
Upcoming 2013 Discover Kaka'ako dates:
September 14, October 12, November 9, December 14.
To stay up to date on upcoming Discover Kaka'ako events, visit www.discoverkakaako.com and follow the #discoverkakaako hashtag.