Center Events
Halfy Hour
Saturday, Oct. 17th 5pm - 9pm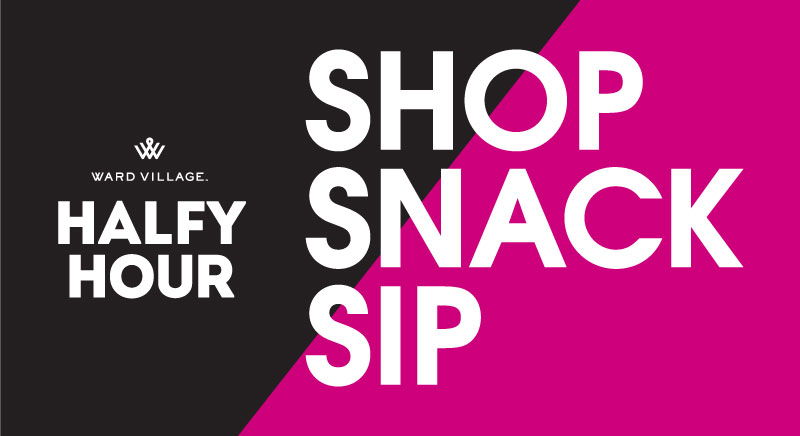 Halfy Hour
Saturday, October 17th
5:00 PM - 9:00 PM
Valid at Participating Ward Village Shops Stores
Enjoy 50% OFF one item at participating stores, plus sampling of beverages and desserts along the way! Pick up your official Halfy Hour brochure on Saturday, October 17th at 5pm on the ground floor, below the Ward 16 Theatres.
Mahalo to REAL a gastropub, for their support & contribution with Halfy Hour!
Halfy hour is valid on Saturday, October 17th from 5:00pm - 9:00 pm only; 1 (one) item per person, per store unless otherwise noted. Must present original coupon sheet to receive discount, duplications or copies are not valid. Cannot be combined with any other discount or offer or used on sales merchandise unless otherwise stated. See individual stores for restrictions. Must be at least 13 years of age to receive discount. Not valid on gift card purchases. Must show valid identification. Samplings available while supplies last. Store purchase is not required to sample.
---
Participating Merchants + Offers
Big Island Delights
50% OFF One Regular Priced Item
Dessert: Mini Key Lime Pie by Kincaid's Honolulu
CHAI Studio
Buy one, get one 50% OFF the second item of equal or lesser value
Dessert: Cookie Samples by Big Island Delights
Cinnamon Girl
Buy one regular priced apparel, get 50% off the second item of equal or lesser value.
Sip: Cruzan Key Lime Pie
Cookies Clothing Co.
Buy one, get 50% OFF second item of equal or lesser value.
Crazy Shirts Factory Outlet
50% OFF Total Purchase on outlet apparel
Sip: Cucumber Cooler
Eden in Love
50% OFF one regular priced clothing item
Drink: Jamba Juice Flavor of the Day
Happy Wahine
Buy one item in designated section, get 50% OFF one of equal or lesser value.
Sip: Cruzan Blueberry Lemonade
H-Zone
Buy 1 Under Armour, Champion or Alohawear item, get 50% off second item of equal or lesser value.
Dessert: Cookie Samples by Big Island Delights
Island Olive Oil
50% OFF one regular priced item
Excluding specialty oils & gift boxes
Sip: Maple Madness
Island Slipper Store
50% OFF one regular priced Island Slipper Brand
Excluding logo items
Sip: Cruzan Passion Punch
Island Soap & Candle Works
50% Off one regular priced item in designated section
Sip: Kentucky Apple
Jams World
50% OFF one regular priced item in designated section
Dessert: Cruisin' for Cruzan
Local Fever
50% OFF one regular priced item
Novel T World
Buy 1, Get 50% OFF the second item of equal or lesser value PLUS 50% Off one item in designated section
Red Pineapple
Buy one, get 50% OFF the second item of equal or lesser valuer.
Dessert: Dean & Deluca Treats
T&C Surf - Ward Warehouse
Buy one, get 50% OFF the second T&C brand men's & youth tees
T&C Surf - Ward Centre
Buy one, get 50% OFF the second T&C brand men's & youth tees
Sip: Classic Tonic
The Wedding Café
50% OFF one regular priced item
Sip: Jim Beam Honey Tea
THEFACESHOP
50% OFF one regular priced item
Sip: Cran-Raspberry Cooler
Tiare Teiti "All Things Tahiti"
50% OFF one regular priced apparel in designated section
---
MAHALO TO OUR SPONSORS
Jim Beam
Obun Hawaii Inc.
Pinnacle Vodka
REAL a gastropub